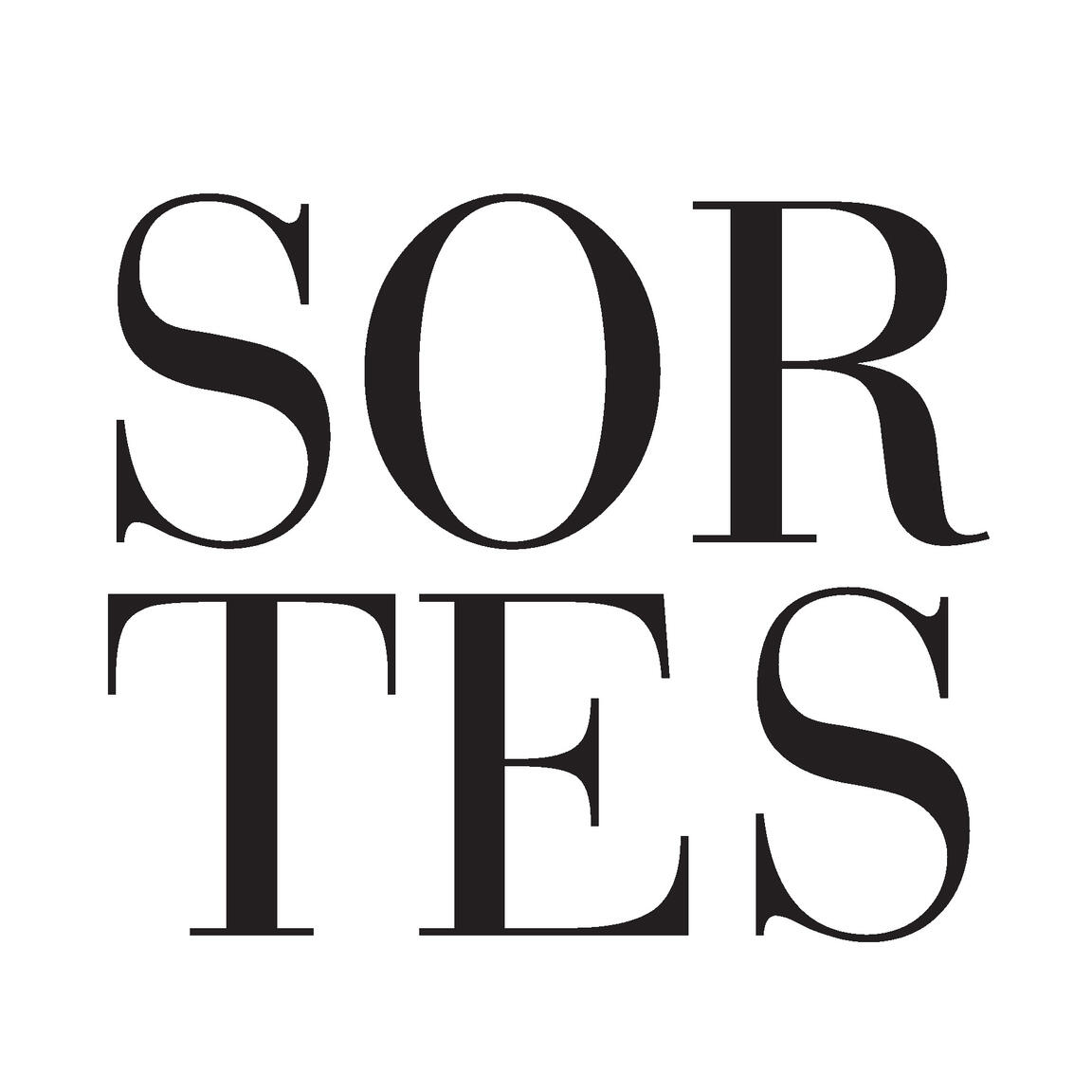 5
March 2021
The chaste are rarely chased.
EDITED BY JEREMY TENENBAUM AND KEVIN TRAVERS
---
Stephanie DeGnore
"Cazado"
---
"Cazado!" we call together as we run through the woods. Birds flit between the branches above, chirping the word back like an echo, first loud then quiet, CAZADO, Cazado, cazado...my lungs burn. My legs threaten to collapse underneath me like twigs as every joint in my body begs for respite. Still, we run. We wind our way around trees, our footfalls echoing through the woods as mud leftover from yesterday's rainfall splatters chunks of dirt all over our crisp white uniforms. Still, we call out for Cazado. We will run until we collapse, and then, once we have recovered, we will run some more. We will never stop running.

My mother used to pinch my cheeks until they turned so red they bled. She said she was doing it so I would know early on how pain felt. This was only the beginning, she said. Pain isn't a part of life, pain is life.

I am lucky to have a friend running next to me. His name is Tom and his most distinguishing feature is his hair, which is bright red like my cheeks when I talk to pretty girls. When we are training, he makes fun of me for that. He says if I were a real man, I wouldn't give myself away that easily.

My heart thunders, and my fingers are slick with sweat, yet I keep my grip on my gun. While I am the better shot, Tom is a much better runner. "Cazado!" he calls out in one flow of his breath, while I'm gasping for breath and my Cazado comes out like, "C-Ca-Za-D-Do!"

Our unit today has five people. This should be plenty for such a simple task, yet we have been running for a very long time. My legs ache. The ground seems to steepen with every step, raising to meet my feet with shattering force. Slowing our pace, we look to our leader. He makes a cross with his hands which means we will split up into pairs to cover more ground.

Tom and I glance at each other. Tom's lips are curled into a grin, his eyes full of hunger. He slips his gun from his uniform and strokes the barrel. Then he flips the gun around and makes a pow-pow noise as he pretends to fire in my direction. A chill crawls over my skin, as if I've plunged into the deepest depths of the Atlantic. Tom squints through the branches above and laughs. The sun catches his boyish face, riddled with acne.

Enough time lost, we run, flashes of green and brown blurring together as we round tree after tree, calling out, "Cazado! Cazado!"

My mother dropped me off at the training center in Washington, DC on the last day of fall. We came from barren Arizona, so I'd never seen trees like these before, ones that came in shades of orange and red. Trees the same color as the sunrise I used to wake up to every morning.

I remembered when she would march into my room and yank the blinds open, snapping at me to get up. "Lazy, lazy." She thought if you weren't sleeping you should be working, and if you were sleeping, you should be working, too.

Exhaust bellowed from the back of my mother's car as I stood in a cloud of smoke with the others and watched her go. We were given our uniforms immediately, stark white suits with flowing lines to help us run and intimidate our quarry. I ran my fingers over the material, surprisingly soft under my touch.

We filed into tents as ordered, where a few old men barked orders at endless lines of young men. We trained for weeks. We woke at the crack of dawn. We saluted and said yes sir. At night, we fell asleep before our heads hit the pillow. We woke up again; we didn't know what day it was. We saluted - Yes, sir! - ran laps, cleaned guns, we scrubbed, we vomited from exhaustion, and then we slept again. All the while we reminded ourselves why we were here. Why the old men said we were here--to make America ours again!

Finally, the day came when we were ready to fight. We stood at attention outside our tents, a blizzard at bay.

Throw them out! We cheered, young men and old.

Millions of criminals!

They're animals!

Later, before that first mission, I stood in formation with my unit on the front lawn of the White House. I could see the president standing behind the windows of the Oval Office, his belly straining against his suit, his cheeks red and jovial. He was signing another anti-minority bill, this one regarding Asians. They were now restricted to math and science occupations, the only fields in which they were capable. Today's mission pertained to the blood bill, which ordered that all people of non-pure blood be exterminated. I knew from school and training that we had to stop allowing non-whites to infect our family lines.

The President's voice boomed through speakers, "For far too many years, we have let these criminals sicken our country. They ruin our way of life with their uncivilized traditions. They are drug-addicts. They are rapists, and they are human traffickers. They have caused nothing but death and destruction. But no more! With your help, we will restore this country to its former glory!" My skin crawled. I felt something rise in my throat but swallowed it down. I saw my mother years ago yanking me away from a group of colored children on the playground. I remembered that night at dinner when she explained to me that they were not the same as us, her expression full of a knowing sadness.

Tom held his head high and saluted the president, his eyes never wavering from the man. I put my hand to my temple and dug my nails into my palm, shouting the president's campaign slogan along with everyone else, "America is ours!"

Now we run to cleanse the world of dirt.

"Cazado!" Tom says.

"Cazado!" I say.

"Cazado!"

And on and on and on.

And then we hear it -- a whimper like the squeak of a mouse.

We slow to a walking pace and glance at each other, whispering softly, "Cazado?"

Tom goes first, white uniform curving, stretching then slimming, and finally disappearing around the base of a large tree. I stand waiting. His pale face emerges from behind the trunk. He looks at me, eyes glimmering. "Cazado."

I follow the curve of the tree.

A girl: thick, dark brows and a sharp, brown jaw. She reminds me of a childhood friend, one I left behind long ago on a playground in the Arizona summer.

She shivers against the massive trunk, her cheeks wet with tears. They trail down her slim dark nose and fall off her chin like snowmelt, disappearing into the leaves below. She is wrapped in a battered assortment of cloth the color of earth. A pungent, animal smell wafts from her, and I shrivel my nose, but I can't look away.

Despite her murky complexion, she is beautiful. I swallow hard and tighten my grip on my gun.

Before my mother left me at the camp, she told me, her only child, one thing. She gripped my chin and looked me hard in the eyes and said, Nothing lasts forever. You have to accept that.

In the end, I did accept it. None of us has a choice.
I clench my jaw and square my shoulders.

"Cazado," Tom tells me, glancing at his watch and nodding his head toward the girl. She stops crying, past tears now.

I raise my pistol and meet Cazado's eyes. They are full of everything.

"Cazado," I whisper.
---
Fabián O. Iriarte
Three Poems
translated by
Donny Smith
---
"jan saudek"
por el fuego va una flota de fantasmas
poseídos de no sé qué sed

o de qué cuerpos for spirits when they please
can either sex assume or both y me iré
sí me iré y será como para siempre

no te dejo ni una promesa en las
sedas del recuerdo anulada el silencio
palpable el aire en pliegues ver
abrirse la rosa del orgasmo

justo antes
de la caída
"jan saudek"
through the fire goes a fleet of phantoms
possessed by i don't know what thirst

or by what bodies For Spirits when they please
Can either Sex assume, or both; and i will go
yes i'll go and it will be as though for all time

i leave you not even a promise annulled in
the silky threads of memory the palpable
silence the air in folds to see
for the rose of orgasm to open

just before the
fall
---
"El gran pezón"
Autoportrait en noyé (1840)
Photograph by Hippolyte Bayard
La luna tiene una montaña
y se acerca como una amenaza.

El durmiente no lo sabe.
No duerme. Es que está muerto
y ha muerto de desesperación.

Sus manos se desvanecen:
así es el acto de desaparecer.

El sexo ya no existe
o nunca existió.

La muerte es lunar
y ha teñido de gris todo el espacio.

Quién lo sabe.
Quizás la amenaza ya se cumplió.
"The Large Nipple"
Autoportrait en noyé (1840)
Photograph by Hippolyte Bayard
The moon has a mountain
and approaches as a menace.

The sleeper doesn't realize.
He doesn't sleep. In fact he is dead
and has died of despair.

His hands dissipate:
such is the action of disappearance.

Sex no longer exists
or never existed.

Death is of the moon
and has dyed all of space gray.

Who knows.
Maybe the menace has now been realized.
---
"fotografía de urho tahvanainen
sostenida por un imán sobre la puerta de la heladera (hattuvaara, ilomantsi, 1986)"
allí donde jamás se ve persona / quién te lleva
.......mensajes
sino el viento / la nieve en espera inmóvil / el
.......árbol es el único
presagio temeroso y tiembla / todo se asemeja a
.......lo invisible

el horizonte al borde del vacío / se esconde
.......inmóvil
hay un eco en los vestigios / tu corazón está solo
.......como un lobo
¿dónde estás en el mundo y yo?

me levanto en medio de la noche / a orinar o
.......tomar un vaso de agua
de pronto me parece que me has dirigido la
.......palabra / desde lugares
mutuamente no vistos / caen fragmentos de
.......nieve sobre tu desnudez
la bolsa de testículos colgante / el pene ya
.......encogido por el frío
los brazos que remedan la nieve

al fondo negro la cortina noche / tachonada de
.......puntos y de copos
y un árbol impronunciable / winter eros / estoy
.......más desnudo
que al comienzo
"photograph of urho tahvanainen
stuck to the refrigerator door with a magnet (hattuvaara, ilomantsi, 1986)"
there where no one is ever seen / who is there
.......but the wind
to bring you messages / the snow standing by
.......motionless / the tree the only
fearful portent and it shivers / everything is like
.......the invisible

the horizon at the edge of the void / hides
.......motionless
an echo in the remains / your heart is lone like a
.......wolf
where are you in the world and i

i get up in the middle of the night / to urinate or
.......get a glass of water
suddenly i think that you have spoken to me /
.......from places
mutually unseen / fragments of snow fall on
.......your nakedness
the hanging bag of testicles / penis already
.......shrunk from the cold
arms that mimic the snow

in the black background the night curtain /
.......studded with dots and flakes
and an unpronounceable tree / winter eros / i
.......am more naked
than in the beginning
---
---
Marissa Faroni
Four Poems
---
"Self Check Out"
Everything is buttery.
No music just bar codes
scanning and apples hitting
metal carts. I can't decide
on bananas. Brown spots
green stems black edges.
Too many yellows.
It's hot in here.
I find a fan in the candy aisle
shaped like a hexagon,
but if I close my eyes
the fan can be any shape:
a square, a star, a sponge.
My legs melt into the floor
clean up on aisle three
I am a puddle.
A puddle
of beige, Bee Mine nail
polish flecks floating
to the surface. A puddle
Without a Caution Wet Floor sign,
if a shopper slips
on me they can sue
the store, or maybe me because
I puddle. I hope
they don't sue me
my rents due tomorrow.
I don't have extra
spending money this month
because the canary capri's
with black polka dots
were just too cute
I had 5 dollars and 76 cents
left on a gift card
so it was only 15 dollars
and 23 cents
which is kinda a good deal.
I say kinda
because I know
it's not a good deal,
my sister has yellow fever
again
it's getting worse
now I'm a puddle
in the candy aisle
an eight year-old
is running to pick
up the box of lemon heads
he is about to step
on me and slip
on me and I try
to move but the puddle
gets bigger, it's my fault
that he's bruised and wet.
Some teenager rolls
a yellow mop bucket
to aisle three
soaks me up
rings the mop out
I am dirty water.
---
"You Look So Normal"
My friend cancels on dinner and I melt into the armchair I was sitting in when I got the text.
I'm an armchair now and they don't eat anyway.
I had to buy a belt for the jeans I found in goodwill a couple months ago.
They hugged me tightly in the dressing room and now they don't want to touch me. So
I cut them open and hand sew the denim into a backpack,
now maybe it'll hold something correctly.
I push the kitchen table to the center and stack the chairs in the corner.
I circle my freshly conquested island that needs a name. I walk and walk stopping
when I realize that maybe the island already has a name and decide it's wrong
to assume their gender. I use scrapbooking scissors to cut the edges of these moments
pasting them onto the inside of my eyelids.
Running out of room, they slip into casual conversations. And people are surprised, they say
you look so normal. Then they say
you should probably tell someone
else.
So I buy projector at a yard sale
nail a white sheet to my garage
come and see.
---
"CVS"
Blue & orange cancel each other out so
the dye would just bring me back to brown.
My hair is too damaged to bleach -right now- so
I'd rather just shave it.
...............My parents won't let me; which is just rude,
it's my head.
I just want to have my Brittany moment & get back to normal.

It's Tuesday, 10 p.m. & I'm alone.
The night staff keeping to themselves; I pace
from section to section reading label after label, in search
of vitamin C tablets to crush into my scalp
in an effort to scrap the last of the blue off. I pace up
...............& down the aisle even after finding them,
..............................unsure what to do now I check out the diaper section,
the cheap men's colognes, and read greeting cards for every holiday.

The water is tinted blue ever-so-slightly every time I shower
leaving me stained green & everyone saying it looks good! That
somehow- I'm pulling this mess off. Over
& over their lines repeat in my head
& suddenly their pitch gets higher on the g
& I realize they're saying good
& not great so the blue has to go.
I only need this process to work a little
so maybe when it looks right, maybe, I'll feel
..............................pretty, again.
Because for some reason
when I get like this- when my brain turns to melted 7/11 cherry slushie, like this- I just want to
..............................feel pretty.
If I was home, I'd put on
that dress &
that eyeshadow &
that lipstick. Then
I'd stare at myself in the mirror until I smiled.
Only to wipe it all off put my stained double XL t-shirt back on
turn the blender off & go to sleep.
I float...............through every aisle
now in search for Bugles & even though I lie about this
to the cashier later, I only check aisle one. After I go down aisle one
I go down the last aisle of my night; aisle two
which has the candy
& my hands
...............-without my mind's consent-
pick up each bag & box & imagine
my night with them. I grab the prettiest package.

The cashier asks if I had any trouble
finding my items & I say no on impulse. As he's scanning
I go:
...............actually yeah I did have trouble, there's no Bugles in this CVS
& he goes:
...............did you check aisle 3
& I assure him, yes. I checked aisle 3
& he goes:
...............this CVS is slacking
......& smiles at me. & for once I can smile back; even though cute boys being nice to me
......normally make me nauseous.......So maybe the meds are working a little after all.
& if this were a rom com (or some show on HBO) I'd probably stay there
& flirt with him about Fritos or Cheetos or something. Because it was CVS,
11:34 p.m. on a Tuesday & if he was into me maybe he'd ask to get a drink.
......But:
...............1. I'm "not supposed to drink" on this prescription
...............2. I have blue hair. & I'm talking to a guy about junk food at CVS at 11:35 on a Tuesday
...............making me the Manic Pixie Dream Girl of my movie & that's not my movie -as long as
...............I'm in control of it
...............3. The meds aren't working that well yet.
...............4. I almost crashed my car running a red light to get to CVS to buy something that
...............probably won't change the color of my hair & probably wouldn't make a difference even
...............if it did. We
don't break eye contact
as he tells me to have a great night
our hands don't graze......each others as he hands me my bag
he doesn't ask me my name or my number. So
at 11:36 p.m. on a Tuesday
I leave CVS, no longer wanting to shave my head.
---
"One Hour"
My therapist's dog hates me.
..............She growls when I step inside
............................& Joe finishes up with his client.
..........................................She yaps when Joe's wife
......................................................................(also a therapist)
........................................................yells "Sophie!"
.................................................................over & over & gives her a treat to stop.

Sophie lays down
..............on the carpet until Joe
............................comes out of his office
..........................................I stand & she yaps & gets another treat
......................................................................(She's Pavloved them).
........................................................I just want Sophie to be my friend.
................................................................Joe reminds me not everybody is going to like me
.............................................................................but Sophie is a dog
..............................................................................................so that makes her different.

Have you ever heard
..............of Mountain Dew?
............................It tastes green
..........................................like an apple
........................................................thrown into a bonfire
......................................................................(I need more pyromaniac friends).

When my fish died
..............I was too depressed
............................to flush his body down the toilet.
..........................................Forgot to feed him & clean
........................................................his bowl & scrub each pebble.
......................................................................Each day more of him fell off,
....................................................................................tiny fish organs spilling out tiny corpse.
..................................................................................................He flaked away.

The milk at work
..............expires on valentine's day.
............................They don't make cards
..........................................for I really like you.
........................................................Which is annoying
......................................................................because we just met.
..........................................(Two little birds sitting in a tree/ F-u-c-k-i--n-g)
...............................................................................Even more annoying that you found one.

I used to think
.............."Are you okay?"
............................meant
.........................................."Are you alive?"
........................................................(I've always answered yes).

Have you ever noticed
..............your knees in the mirror?
............................Mine have faces.
..........................................Unborn baby faces.
........................................................Two ultrasound photos
......................................................................a soon-to-be mother boasts on facebook.

The future haunts me.
..............A shadow painted on the inside of my eyelids.
............................With every blink
..........................................that's all I think about.
........................................................I can't paint a picture for you,
......................................................................what am I supposed to --

We're out of time.
---
Mehrul Bari S. Chowdhury
"Midnight Dreary"
---
If you know of Dr. Theo Neiman then you know of his story. It was passed around on Sundays, and Mondays, and every day in Cecilia until the words described another story entirely. If you've heard of Dr. Theo Neiman, you might've heard a different account altogether from what happened. It was on the 6th of May he moved to Cecilia -- some versions will erroneously tell you the 7th -- and he moved there for the sole reason of finding his former colleague Dr. Louise Mangan, who some years before had gone missing, and anyone with a pair of eyes and ears could tell you she wasn't coming back.

Dr. Theo Neiman went home and couldn't sleep that day, on the 6th of May, and most days after. As we know, Cecilia is a town where the sun just refuses to set, and for men like him, who require a few good moments of peace and calm and shade, Cecilia is just the worst of places. He didn't know Dr. Louise Mangan too intimately, but he knew her enough and respected her work enough to come to her last known whereabouts; besides with her gone much of their projects' workload fell squarely on him, and they grew increasingly dreary.

He stayed there for nearly 26 weeks, but you couldn't say he was there. Yes, his mind wandered to places at the end of each of those days, and on the times he'd stay up till today was tomorrow, his mind went places even he couldn't tell. By the 24th week you could tell something had turned. He began to speak fitfully, to anyone or anything, cut across with mannered tones of speech that just told you he wasn't interested in any of those anyones or anythings. He also found that, along with speech, a few other senses and functions had deserted him. He lost, at some point, the ability to cry. He would, regularly before, put aside a time away from any possible eyes and weep bitterly and openly, near-uncontrollably, in the blanket of shadows formed by the ends of the two long, smothering shelfs of his study. He would think of his wife -- what he'd done, what he could've done, and what he hadn't done -- and those mountains of ice-turned waterworks within him would disperse right on cue. But something had changed. He found it was just the tears that went missing; the heat behind his eyes still struck like lightning, and his cheeks and jaws still shook as though with purpose whenever those tears were to come -- only they didn't; they wouldn't. He would sob, but he wouldn't sob; everything but the salt water in his eyes. That release was missing, as was so much in him.

Dr. Theo Neiman didn't yet belong. In his own mind, where he danced unknowing of where to plant his foot, where he thought and thought and thought, he found no exit. On the outside, where there was only light, he found no entrance. What was it that ate at him? What was it that made it this way? What was it that stuck to him like the thickest glue? Was it the sun, that unbearable thing that gave no answers and raised only questions? Was it Dr. Louise Mangan, a flimsy memory now? He remembers. He remembers esteemed colleagues. Esteemed colleagues telling him not to go look. They said if you really knew her you wouldn't. But that wasn't it. That couldn't be it. What was it? What was it? What was it that undertowed him, and where was it he was to swim? This town had made a bungling fool of him, and he was letting it. He was. But he wasn't doing anything about it. Not a thing. Not a finger. Not a thing when he saw Louise Mangan walk by the silent streets when most in the neighborhood were asleep and he at once scattered out of his desk chair and immediately to the streets. He left his coat hanging in its rack and rushed to where he had seen Louise mere moments ago. He couldn't see her now but he saw a thinly woman turn a corner up ahead, who might've very well have been Louise. He kept on his path, speeding beyond what his body could handle, as his stomach felt never the vaster, swiveling thing as it did then. Empty and feverish, his body must have told him a million times to stop, to reconsider his actions, to tread closer to what he should be doing at his age, an unflattering 47, and to, for heaven's sake, stop running and shouting, which he now realized he was doing. Turning the corner and into that next street, he found the woman a few squares of the sidewalk ahead of him, with her back turned and unmoving. He shouted once more, more forcefully, more gutturally. The woman had stopped and turned around. She was the spitting image of Dr. Louise Mangan, right down to the individual details that now escaped him. It was her; he could see it from the few feet between them. That was Louise. That was Louise, he knew, as he bridged the gap with slower steps this time. "It's you, isn't it?" he asked, cutting that gap. "It's you."

"Louise," he continued, closer, "I'm sorry."

"What for?" she said, as a strong wind swooped in and then out.

"I--," he said, now a mere inches from her, close enough to see who she was and who she wasn't. "You're--," he said, "who are you?"

"Mister, you stopped me in the streets; who're--"

"I --"

"Hey, forget about it. You thought I was someone else."

"I --," he said, while the woman backed away.

He turned around and made back for his house, in a daze, his body now feeling all the rigors. He came back down the same road and when he came back to his senses, he looked back on what had happened, and his error in them. He wasn't quite sure what it was and where he had done it, the error, but he was certain there was one, possibly two. He sank down into his sandy, filthy couch, defeated beyond words, looking past those trembling brown curtains through which he had spotted Louise before. He stared blankly at that large, open window as he let the winds of that day find its way into his living room and into him. The winds snuck in like the stealthiest thief and wrapped around Theo Neiman's arms and his legs, and fended off some of the sweat that had grips about his skin. He began to see things more clearly. He knew that was Louise, he knew that much. That was Louise Mangan. But then it wasn't. He was certain that was Louise, until it wasn't. He made quick note of what time it possibly was when they had met, something around 00:14, and aimed to repeat it, and certainly Louise would come again, on the next day, and he would be there, waiting.

On the next day, near its end, Theo Neiman had his bulging, red eyes -- more red than white -- fixed on his window. He saw every light turn off, one by one, to as far as his window allowed. Everyone was asleep now; he should be asleep now, but he persisted, like a hawk, like an animal, like a lowlife who couldn't tell you why. Bags rolled under his eyes, the only things holding those tired things in place, and his elbows bore marks of heavy indentation; his lips, sore, were turning ghostly with desiccation, as surely were the little hairs on his head and the white forest of uncared-for stubbles that rounded out his face, and they stood up each when the sight of Louise was spotted drifting past his mailbox and then his neighbor's and then his neighbor's neighbor's. His chair was well on its way to the floor when he leaped out his front door and scrambled to meet the fading silhouette. He demanded more from his legs than they ever could offer, the way he fretted about callously, uneasily, in the narrow straying street. He couldn't open his mouth, nor part his tongue from the back of his teeth, but he didn't think to do either, he just ran. He caught up with her at the next turn, where she walked slower and stopped altogether to turn back. He seized up and caught a good glimpse of her. She looked the same as the other day, now clearer; her hair the same way, her makeup still bare if any, her long-stretching dress shirt hanging off her wrists limpidly. All was missing was her voice, which he vaguely remembered and might've very well misplaced. He called out for her, but his voice didn't make it much far out of his throat. A muzzled cry of "Louise" was barely audible, if only to his ears. The shadows squeezed closely on the two of their faces, leaving little to be seen and hiding much away to the imagination. The trees hung high atop them, swaying with a wind he felt now. They looked familiar, as did the stumpy motel building to his left and the construction site near the fringes of where his right view took him. He knew he was some miles away, at the east end of Cecilia, but his attention and questions were only pointed at the silhouette. "Louise," he said, this time with a voice. "Louise." He looked at his watch and looked back up. "Louise?"

"Stop," she said. The woman had changed.

"Where's Louise?"

"I don't know. Stop," she said.

He bowed his head down to his watch again. It was 00:04. He was too late. It was a new day. That was what his error was. It must be. He was too late, this time.

The next day -- and from here is what you may not have known -- Dr. Theo Neiman was ready, affixed. This time he truly abandoned everything else -- anything that didn't pertain to finding Dr. Louise Mangan. Bills had piled on the bottom of his floor; wet, white candle-wax ran amok through his carpets and table-edges, and cold, blackened matchsticks swam sprinkled close by. In these times, Theo had only the one thing on his mind; finding her, or saving her, or find something, or save something; the i's were not yet dotted, nor the q's slashed across, and though whatever that one thing was was a spotty, slippery thing to him, he knew what it felt like and what it was without needing to ascertain what any of those nuisances actually were; of course, that one thing came sometimes in twos or threes, and felt quite different and could've indeed been different things, but they were just one thing to him, and that was all he could set his sights on and all he could see ahead of him, dangling like a piece of fresh-cut meat.

And then, Theo saw her again, and this time he didn't hesitate or decelerate, not an inch, before catching up with her. Only when he did, she didn't turn; she stood with her back to him, her hair masking anything that might've been. She simply stood, not a flinch, somehow not a turn to acknowledge his presence, which indeed was a feverish one then, as many could feel, breaking some from their sleep, as far as 4 blocks down. But his fire didn't go out; he followed her and followed her, in her twisting and coiling trail, from street to street, driveways to driveways, by houses and houses, waking the light sleepers and overcoming those sad bunch with a strange, besetting feeling that poured endlessly out of him in his heedless dart; and as he got further, and further leaked out of him, his legs didn't slow down, not a bit, but they certainly felt lighter. His knees didn't make any creaking noises, no sudden jerks either. Theo, for once, was not as aware of his body as he was the other times. His legs were just instruments he was using and not stringy timebombs waiting to go off. He used those legs to push and pull his way closer to Louise, who wasn't so far off that you couldn't make out who she was. She was Louise, he could tell, though he couldn't see. A glitter off the right-above sun recoiled back to meet his eyes anytime he got what he thought would be a good look. The heat off the glitter hit like hot flashes into those eyes that fought with all its ardor to push back and through. His eyes flinched and throbbed, in it stirring a strange hotness that begged to be watered, yet the water failed him, still. The silent figure of Louise went on ahead, with Theo chasing after as though through a crowded market place. In some instances, between mildly audible cries of "Louise!" and "Wait," the sun doubled down and grew twice in size, silhouetting Louise as only that -- a black, rippleless outline, just a bit out of reach from the tip of his longest nail. "Louise!" he cried out, his thorax cracking under the syllables' weight. "Wa-it!"

"Please wait," he said.

The shape of the woman didn't respond, only looked. Either she had stopped moving or the sun had momentarily abated.

"Please," he said. "Lou-ise."

"Yes?" she said.

"Louise," he said, with a tremendous shock, though knowing that she was Louise and could be no other woman on the face of this earth but Louise.

"Louise," he continued, "is-- That's really you, isn't it? That's really you!"

"Neiman," she said. "I'm surprised you came."

She turned back around, if she had turned before, and started moving again. Theo could see her walking -- away, perhaps. Set against the golden, gorging sun, she appeared like a burning matchstick, burning near its end. Moving, he didn't think, he just followed, to a part of town he hadn't been or hadn't known. He followed her, through the town, where trees sprouted off the ground in the horizon ahead. She walked on, he was right behind, and soon they were under the chill of the trees. The trees either grew in number or they had outrun the sun by a few ways. He kept following, where it got dark. He felt that 'one thing' he had been chasing dwindle into nothingness; he didn't notice when exactly it had slipped off him, just that another had taken its place. He didn't know what this one was either but it felt like all this time he had been falling, faintly, and an awning had just now broken his fall. That was all he felt. He kept following her closely, his body unaffected and damp. His eyes glimmered red glimmers, his eyelids bore heavy burdens; sleep was catching up to him, faster than he could keep up, and his face was at this point an open balcony-window revealing all the turmoiled insides you pay windows good money to conceal. Yet, he didn't know. His body and himself became unraveled at one turn or another, and he couldn't tell you if he was starving or perfectly fine. On his two paling legs, a swirl of black branches and crushed leaves clung, moving about with him. And on his head, now dimly gaining hints of cognition, a bead of sweat stuck like a snake upon the bulge of his brow, hanging and drooping down all the way from the few clusters of hair it had broken free of. Theo's hand arose, without his thinking to, and made a clean slash along the forehead. He looked down to see his palm, running heavy with grease and giant sweats, yet he couldn't see a single drop, or anything. His hands were dark, and Louise was dark. Everything was dark, and getting darker. She kept walking and him right behind her. He couldn't see anything. She kept walking. And he kept following her. And he kept walking until no one saw him again.
---
Devon Balwit
Five Poems
---
"Oracle"
He was a man possessed,
almost davening,
Licensed, bonded, insured,
I mean intoned --
I paused
from this Sybil,
How did he know
Was I to get fleeced?
I plucked a hair
He nodded, I nodded,
He flapped, I flapped,
Licensed, bonded, insured --
haruspicy,
but only a crow
I arrived home
the left hand ignorant
rocking in rain,
shining forth.
he intoned --
in radio perfect bass
to hear more
his monologue Delphic.
I was meeting my contractor?
Was I safe -- licensed, bonded, insured?
to set on his boom box.
bobbing in tandem.
two cranes in courtship.
we needed libation,
the pullarius,
mocked from a rooftop.
to a missive from the IRS, dunning me twice,
of the right's doings.
---
"there"
has been no rain / babies
............tug at dry teats /

relics in procession / we stipple
............whispers / bitterness

to gravel the roadbed / we expect
............only switchbacks /

tomorrow / all talons
............and scimitar beak
---
"What Other Explanation Is There?"
The dead should be hoisted
skyward in rough cradles,
laid on cliffs, or mingled
in ossuaries.

They want company,
help with sloughing off,
not to be interred solo,
pinned beneath lids.

Ashes

beg scattering in surf
or along paths,
Hansels and Gretels
to follow their gleam.

What frightens
is aloneness. Why
isolate the dead if they've done
nothing wrong?
---
"The Machinery of Ruin"
..................O my
..................Homunculus, I am ill.

I awaken in the night
to my own Cairo roundabout,
small horns in my inner ear,

hours spent merging
in dull waiting rooms, the suck
of cash into the loess

of specialists. My crotch burns,
a dot on the hot vestibule, a sinkhole
for creams and specula.

Around my ankles, raw scurf
and, not yet necrotic, a puncture
suggesting the bite

of a recluse. System by system,
I enter fatal cascade,
the unstoppable machinery of ruin.

(after Plath's Cut)
---
"The Made Mourns its Maker"
..............................................(after Nic Fiddian-Green's sculpture, Still Water)

Its little groom, the artist, currycombs
..............................................the god-horse,

pressing his whole length to its vast
..............................................muzzle.

He brushes bronze, readying the great beast
..............................................to drink

from the waters of time, to outlive him,
..............................................future rain

greening it from ear tip to whispery whiskers.
..............................................Its eyes

brim pity for its tiny smith, its briefest bit
..............................................of a first father.
---
Lauren Klosinski
"The Apparatus"
---
Paris, 1928
Seeing
but not yet sophisticated to detect it all.
She's moving
instantaneous, counterclockwise,
whirling,
back arched. Her pink gums glinting.
Shifting, urgent
amidst the whisper of tulle.

It must be explained why,
the prediction about what can
and should happen.

I wake
Clenching and unclenching my fists.
---
Tom Backer
"The Circus"
---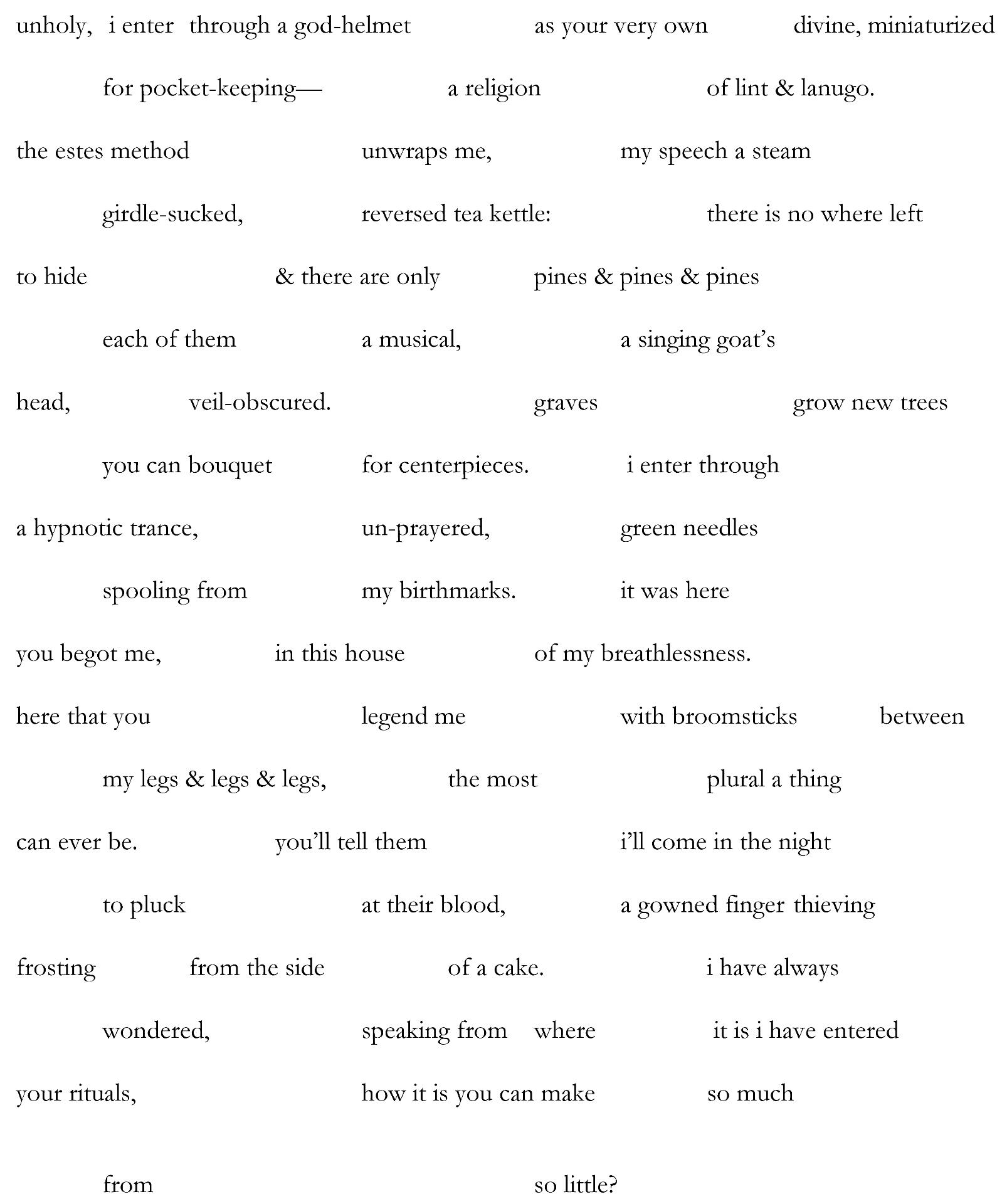 First row: Sue the Bearded Lady, Pat the Thin Man, Dolly the Fat Lady
Second row: Tom Backer the Ringmaster (author), Albert the Admissions-Taker, Johnny (not in story), Willy the Trapeze Artist, Normie (not in story), brother Joe Backer as Pogo the Clown
---
1950. I was ten and my brother Joe was a year younger. Mom said we were "thick as thieves."

Dad served as doctor for our small town and the neighboring farms. Patients sometimes couldn't pay cash so they would give produce or in one case a chicken. Mom told one of our older brothers to get the chicken ready for supper. He laid the ax on the bloody stump and went to pick up the reddish-brown bird, clucking contentedly at the base of the Maple tree, when I exclaimed, "Look, an egg. Let's tell mom."

"Mom, the chicken laid an egg! It's a miracle! Can we keep it?"

Mom came outside. I picked up the warm egg and handed it to her. Our older brother stood by the chopping block, holding the bird by its legs and hiding the hatchet behind his back. Mom looked at the hen. "You must know something to bring life into the world as you are about to lose yours."

She told the older brother, "Go to the store and buy two pounds of ground beef. We can have meatloaf for supper."

We rejoiced. "We'll call her Egghead."

Mom didn't let us have pets. Guess she figured twelve kids was enough. Dad always had a dog for hunting quail but they just growled and bared their teeth if we got close. Egghead couldn't sit on command or extend a paw but was the closest we ever got to having a pet.

We decided to teach her some tricks. We got two tall wooden sawhorses out of the garage, placed them in a line, set Egghead at one end and kernels of corn a foot apart along the top of the sawhorses. Egghead stood up, walked to the first kernel and pecked at it. The kernel flew up and she moved onto the next one until she reached the end of the sawhorses, clucked loudly, jumped off and walked to her favorite spot at the base of the Maple tree. We spaced the kernels further apart and then just one at the far end. Egghead raced the distance, pecked at it and clucked.
It reminded us of a tightrope act and that gave us our big idea. We would put on a circus with Egghead as the star attraction.

Joe wanted to play the clown, calling himself Pogo. Skinny brother Pat at six would play the thin man. We asked our sister Sue, two years younger than Pat, to play the fat lady but she said "Phooey on that!" so Dolly, a chubby neighbor girl her age agreed to do it and Sue would appear as the bearded lady. I would run the show as the ringmaster.

My friend Cletus wanted a part so we decided that he and I could put on a trapeze act using our large stationary double swing set. Albert, a neighbor kid Joe's age, wanted to do something so we suggested he could collect admission and sell tickets for the raffle on the cake that Mom, enthused as always by our antics, agreed to bake.

We practiced our parts, looked for suitable costumes and wrote advertisements on eight and a half by eleven sheets of paper and taped them to telephone poles and at places of business.
THE CIRCUS IS COMING TO TOWN
Backer's backyard
Saturday, June 10th, at 3:00 in the afternoon
Adults 15 cents and kids a nickel
Ten cents a chance for the raffle on a cake
Dolly, the little fat lady, said she couldn't do it because that was her birthday and they would have friends over that afternoon so we moved it up a week, crossing out "10th" on the signs and writing in "3rd."

On the big day we set up the sawhorses in a line in the center of the backyard, attached crepe paper looping across them, arranged folding and other movable chairs and stools for the audience and placed mom's marble fudge cake with chocolate icing on an end table in the center. A clothesline stretched across the lawn between the sawhorses and the chairs and we used clothespins to hold up two sheets there to serve as curtains.

We had Albert, Joe's friend, stand at the side of the house with an empty cigar box containing some coins to make change and blank slips of paper in a bowl for people to write their name and fold if they wanted to take a chance on the cake. He wore black pants, a white dress shirt, red vest and a red bellhop cap. He looked terrific.

I wore a black sport coat I found in the attic. It must have belonged to a midget because I could barely get into it over my white T shirt and khaki shorts. A homemade top hat and dad's lace-up hunting boots completed my outfit. I used the end portion of a collapsible fishing pole with a short line and bobber to serve as my whip.

All of us except Albert hid behind the curtain. When it looked like no one else would come I ran out between the sheets to stand in front of the audience, brandishing my whip and yelling, "Welcome to the greatest show in town. You will see wonders from near and far to excite your imagination."

"First, I present to you, straight from next door, Dolly the fat lady!" She waddled out from between the curtains, holding up one of her mom's kitchen dresses to keep from tripping and the pillow under it. She curtsied and the crowd clapped as she stood over to the side.

"Next, a sight you will never see anywhere else, Sue the bearded lady!" She wore white tights, a pink ballerina outfit and yellow corn silk taped to her upper lip and turning to dark brown as it hung past her mouth and below her chin. She tweaked her mustache, gave a wicked smile, pointed a finger above her head and twirled on one foot. Applause and wolf whistles as she stood next to Dolly.

As I waved my whip back and forth I announced "On the verge of starvation and barely alive, I present Pat the thin man!" He wore only small dark shorts and we had painted liquid shoe polish between his ribs and streaks on his hands and feet and we had rubbed coal dust under his eyes to make him look skinnier. Bent over, holding a cane in one hand and pressing the other to his side, he staggered onto the stage, took a bow and fell on his face. I helped him up and to the side. A girl in the audience sighed, "Oh my, heavens to Betsy."

I went behind the curtain to pull out our Red Ryder wagon with a large cardboard box painted yellow with red bunting. Joe threw off the box and jumped out of the wagon tooting his plastic horn as he danced about. He wore a billowy white clown suit with black polka dots and red fringe on the wide collar and ankles and a matching clown cap with a red tassel left over from a previous Halloween and extra large tennis shoes he had borrowed from an older brother.

I yelled, "It's Pogo the clown!"

Grabbing three baseballs from the wagon he tried to juggle them but never had quite got the hang of it and after three tries tossed the balls in the air to the kids in the front two rows who jumped out of their seats to grab them.

"Now, if you look to the side ring, our patio, Pogo will delight you with some amazing feats." He put on knee and elbow pads and a World War II helmet. Standing on the back porch to get on stilts, he made some hesitant steps before starting to wobble and jumping off. He then got on the pogo stick but again got wobbly and jumped off.

Running to center stage, he tossed the helmet aside, did a somersault and cartwheel, stood on his head, tooted his horn and took three bows.

"Isn't that mind boggling! A round of applause for Pogo, our acrobatic clown."

Albert the cashier had changed into a long sleeved skin tone tight fitting shirt with rags pushed under the sleeves on top of his biceps and on his chest and a leopard skin from another Halloween wrapped over his short shorts to look like Tarzan. He strode out and I yelled, "Straight from the jungle and his latest Charles Atlas course, Baloo the strong man." I dragged the broomstick with black baloons on either end to center stage and he bowed and struggled mightily to lift them over his head. The audience clapped. He threw the barbell and weights in the air and caught them. The audience laughed and cheered.

"From the Far East, Aladdin's younger brother Abdul the Magnificent will swallow his sword." Pat had wiped away the coal dust and put on a shirt with puffy sleeves and too big pants tied at the knees and pointed cardboard slippers.

Facing sideways from the audience, he pulled the curved plastic sword out of its scabbard, leaned his head back, held the sword high above his open mouth and began to push the sword behind his head. He had gulped a large amount of catsup that began to leak from his mouth. He pushed the sword all the way in and fell to the ground, the rest of the catsup gushing from his mouth. The kids in the front row shrieked while a lady gasped "Oh my gosh!"

"Not to worry! He does that every day!" Pat jumped up, catsup dripping down his chin and onto his shirt, took his bow and stood to the side with the other wonders of the world.


"Now, if you will again cast your eyes over to the side ring you will be astounded by our death-defying trapeze act."

Our older brothers had removed the swings from the swing set on the patio, leaving only the frame and the two bars at the top that swung back and forth. My friend Cletus came running out of the curtains in T shirt and shorts dyed bright green. I removed my jacket and we jumped on the bars and swung back and forth. Holding on with one hand and clasping one another by the other hand we changed sides and then we got to swinging on the bars and jumped back to the original side. We each skinned the cat, dismounted and took our bows before an impressed audience.

I returned to center stage. "Before our amazing last act, we will pick the winning ticket for the cake raffle. Mom baked this marble fudge cake with chocolate icing. Ain't she a beauty! The cake I mean." A smile and nod in mom's direction. "Sorry, mom." Albert, back in his fancy ticket-taking outfit brought forth the bowl of slips, held it up and Sue picked one and gave it to me. I unfolded it and announced, "Cindy Heichelbech is the winner."

She jumped up. "Yea!" and turned to face her mom, "Thanks for buying the ticket!" I took the cake, resting on several paper plates, from its end table and handed it to Cindy who sat back down, holding the cake.

I paused for effect, cracked my whip and announced, "Saved from certain beheading by laying an egg, we present Egghead, the star of the show."

We unpinned and pulled back the curtains. Joe had placed some corn at one end of the sawhorses and now sat Egghead at the other end. "Egghead will defy death by walking the tightrope from one end to the other." Joe released her and she clucked and glanced around but didn't move. Joe lifted her to a standing position. She just stood there. I whispered "Come on, Egghead, get the corn."

I yelled, "Be patient, Folks. Egghead is getting up her nerve to defy death," and I whispered to her, "Come on Egghead, get moving." No response. Joe put kernels midway of the sawhorses. I said a little louder, "Come on, Egghead, get your corn." She began to groom herself. I cracked my whip and yelled, "Egghead, you better get moving or you're going to get fried." Nothing. Joe gave her backside a nudge and Egghead flew at the audience. The kids shrieked, jumped up and backed away, knocking over the chairs and stools. The cake flew up out of Cindy's hands. The adults guarded their faces while Egghead flew into the cake and veered sharply to the left to sit at her usual spot under the Maple tree and squawked, chocolate icing dripping from her wings, beck and head.

I yelled, "Sorry! Everybody okay?"

Cindy, looking at the broken up cake lying in the grass, was crying. "Sorry, Cindy, mom can bake you another one."

Facing the audience, I yelled "That's all, Folks! Thanks for coming!"

We counted two fifty for admissions and a dollar from the raffle. Keeping our costumes on we marched up the hill to the rectory and presented Fr. David with our entire take. He smiled, blessed and thanked us.

We lost interest in Egghead and had chicken soup for supper a few days later. We didn't ask any questions but we had our suspicions.

We had remembered to change the date on all the signs but the one in the barbershop. The following Saturday, the original date on the signs, Marcella, Carly Barbershop's very old and very deaf mother, showed up in our backyard. I tried to explain that we had to change the date but she couldn't understand so mom made us get back in our outfits and repeat the parts of the show we were in.

Egghead did not make an appearance.

Marcella left the house only on very special occasions, like when the circus came to town.
---
Thomas Piekarski
Two Poems
---
"Metabolic"
A lonely soul endures
by bundling up
and dishing out bear hugs.

...............Microwave integration
...............promises we citizens
...............future gains.

To toss one's wedding ring
into a river
is quite lamentable.

...............Time tucked in a bottle
...............they sail full throttle
...............past Orion.

When gladiators clashed
they sliced and bashed
unencumbered by death.

...............Good marketing entails
...............capitalizing on needs
...............and susceptible folk.

Emancipation arrived
a little too late
to alter our destiny.

...............Once it was radical
...............to dye hair chartreuse
...............but they liked tattoos.

As idols fade
we acquire nobility
and attach it.

...............The mass migration
...............deemed successful
...............upon conquest.

Polarized by light
our stunned eyes leaked
rubies and diamonds.
---
"Anonymous"
Sentences typed out
while life's interactions
ripple beyond
infinity's reach
and mirages freefall
as daylight percolates
dream tigers.

Massive suns
suddenly gone viral.
Satisfaction resides
in subatomic bricks
out of which
words worm.

At Monterey Bay's
Custom House Plaza
frivolity overflows:
Fiesta Italiana a hit --
bocce ballers abound,
Paolo serenades.
Excessive obligation
unstressed. A lone gull
hovers, clairvoyant,
offering membership
in the lazy lion
foreign legion.
Loins time wields
wheel, fully exposed.
I capitalize on
love that rubber stamps
natives strutting along
a buoyant beachfront.
The rubber ducky's
steel prosthesis stuck
in black muck
so I should sample
pasta at the festival
or be stigmatized as
counterrevolutionary.
Autumn creeps
on knotted elbows.
A dead sailor
whose name escapes
wind's memory
detonates
souls hibernating
inside that which isn't.

The super cute chick
staring out
a picture window
at Cafe Trieste, iPad,
paperback and notes
strewn on the counter,
seductive in teal & black
Panthers jersey with
concomitant cap
is not wrapped up
in delicious buttery
croissant crust.

Pucker up centaur,
embrace anonymity,
resurrect faith
detesting death
fermented in
thought long lost.
---
Taruni Tangirala
"achilles heel"
---
my sinewy feet, enveloped in american beachgrass
pressing their agitation onto the sand underneath,

the sand discerning my achilles heel.
the reason for my defeat.

the sea breeze pulling at my retina
losing me in the murky blue waters

of irrational aspiration
just beyond the point where the sand touches the sea.

tears, iridescent as they are
magnify certain aspects of existence

that overflow with functionality
yet counterproductively failing me

in a way that only I can perceive
this nightmare of nightmares

this storm in Tartarus blinding me
with the dust of the present.

leaving me unaware
that this now

this fleeting moment
will rush yonder

just as swift as its advent.
my achilles heel can,

sometimes,
be interpreted as fortitude

is it, though, when all hope brings is unrest?
I regale those around me with blindingly bright dreams.

dazzling in all of their chimeric glory
from the ocean I see the sun,

a bit more lackluster than those in my phantasia.
but there, nonetheless

in skin and flesh
unlike those refulgent stars of reverie.

from the ocean I see the sun,
just beyond the point where the sea touches the sky

blindingly authentic in its tangible existence
but cursed in its zeal to remind us

of the world beyond anesthesia and cerulean gowns.
of what's real
---
Tony Van Witsen
"Rainie's Dream"
---
Just before you start your new job, your daughter, Rainie begins having dreams she can't describe. For two days, she's barely slept, or slept haltingly then jerked awake, crying. Twice she walked into the room where you and your wife had temporarily set up your bed, complaining she heard noises. Not wanting to encourage Rainie to run for help every time she has a bad dream, you still shake off sleep and take her by the hand to her bedroom, turning on lights as you go. On your hands and knees, you shine a flashlight into the darkened space under the bed.

"See?" You blow at a dustball. "Nothing."

"It was there before."

"Honey, you were dreaming." You guess the move is what's bothering her. When you first explained you were transferring from New England to Atlanta, her eyes glistened at the temptation of the unknown. Now these nightmares, two nights running.

"It got bigger and bigger and I couldn't stop it."

"Sweetie, I'll tuck you in," you say, then hurry back to bed because you have to rise again in three hours. No one can say you didn't handle this appropriately.

At work next morning, you put aside the emails already piling up and impulsively drop into the studio where the firm's star director is struggling over a shot for a Chili's commercial. Though you aren't a director yourself, you've spent enough time in video production to recognize how the grip is struggling to move the camera in a smooth arc past crowds of diners and drinkers, to a precisely lit plate of steaming nachos. On the video monitor, the shot is bumpy and misses its marks. If you were studio manager, rather than the newly hired VP for development, this grip would be on the street before lunch.

"Cut," the director says, radiating frustration.

"Can I try?" Heads turn as a voice pipes up in the darkened clutter behind the camera. It's a production assistant or something like that, not only a girl, but lithe and athletic, the type who looks fetching in exercise clothes but has no business pushing a camera around a set.

Instinctively you check your watch. Studio time is expensive; sometimes improvisation pays off in a crisis. "In film school I was always the dolly grip on student projects," the girl says, taking her place at the crane without permission. You already know this will end with the shot executed fluently in one take, followed by sighs of relief, crew members smiling and nodding, the director calling for the next setup.

Colby Masterson, the CEO who hired you, appears on set. "What's your name?" he asks the girl. Reaching into his wallet, he hands her a hundred dollar bill.

"Thierry," she says. "What's this for?"

"No reason. Just some money."

"Hey," the director says. "I planned that shot."

"Come to lunch with me," Masterson says to Thierry.

"We're behind schedule," the director says.

"Call lunch," Masterson says. Before he ambles off with Thierry he asks if you've met Eddie Pleasants yet.

"Who?"

"Vice President for Development."

It was Masterson who intuited that the Netflix gig had fallen through for you, cold-called you in Boston, moved your family to Atlanta, even found you a place to stay, all based on visions of the video empire he was counting on you to create as VP for Development.

"How many Vice Presidents for Development are there?" you ask.

"Depends. Sometimes three or more."

"Three or --" You wonder what you've walked into.

"Sometimes five." Masterson looks bored. "Sometimes none. Anyway I've got two of them now. And you're both named Eddie."

You appreciate Thierry's hips as she swings past, hanging onto Masterson's arm, her smile tinged with triumph. You haven't had casual sex that often since your marriage but what you've seen in the last five minutes makes you wonder what counts as a morale raising activity at Video Dimensions. You could see yourself riding those hips to salvation. Thoughts flicker across your mind of all the people who'd like to stop you from wanting those hips, even thinking about them. But they can't, and as long as they can't they'll have to hold their peace about what a low-class, irresponsible shit you are. How you love to love and hate the portion of yourself that thinks these things!

You feel a rush of feeling every time you open the front door of your new home and see the oriental rug glowing on the hardwood floor. You indulged your wife's taste for this place even though you had trouble swinging the mortgage. "I love this kitchen," your wife said on the first walkthrough, stroking the green marble countertops. "I. Love. This. Place. I never want to leave this place." You understand, yet the pride, the contentment, unnerves you.

Masterson is using the weekly development meeting to ream out Ashley Cole, one of the assistants. "Our colleague here," he says, "has favored us with a plan guaranteed to lose money." Masterson can spot the hidden crack in a business plan, the tiny detail that needed more research or testing, then spin out a rant that seems to shut down the victim's ability to respond. "May I ask how this plan was supposed to earn back its investment?" he says. "By passing the collection plate in church? Is that now one of our core competencies?" You watch Ashley staring rigidly at the center of the conference table while Masterson spews invective. "Maybe you thought Mammon was going to rain down money on you?" Masterson says. "For the pureness of your heart?"

Unable to stand it, you glance at the other frozen faces. Masterson falls silent a second, but he's only husbanding his energies for another attack. "Step right up, folks. You won't want to miss this money losing opportunity." When he gets like this, no questions are allowed.

"Alright, that's all," he says, leaving the room. A moment later everyone is in the hallway trying to act as though nothing had happened. The worst part is you and Ashley must somehow find a way to act like courteous business colleagues when a moment ago you saw her wriggling with humiliation.

Your wife asks if you've been reading about Senator Beau Bartlett. He lost his Committee chairmanship after a woman secretly recorded him making clear what she would have to do to secure a job with him. USA Today calls this "favors" but your wife has discovered the actual words Bartlett used. You reflect that she has clairvoyant powers where sex is concerned.

This thought reminds you of Lindsay Park, your assistant on special projects at HBO. It was a teacher-student thing: you sent up bright ideas like skyrockets, while she did the costs, the budgets and the execution. The international travel just cemented your mutual sense of mission. The two of you slept together on and off even after she left the company and you'd already met the woman who became your wife. You were keeping up a friendship; nothing wrong with that, it's a business of relationships after all. Your previous mentee did alright for herself, walking out when HBO balked at a 75 dollar raise, then started her own PR firm. Six years later she sold it for 24 million dollars, while staying on as CEO.

Masterson calls a meeting. "Within eighteen months," he says, "I want us to be the biggest video production firm in the south. I want us to be bigger than anything in Nashville, Miami, Durham or Dallas." His hand chops the air to emphasize each city.

"Is that possible?" you say. "Everyone in video in these towns is already working."

"We're solutions people," Masterson says. "We've done a winning job in Atlanta. Now it's time for phase two. You guys can do this. You know what levers to pull."

"And gals," Thierry interjects.

"When I say 'guys,' I mean everybody. That's what 'guys' means, doesn't it? Why do you have to add gals?"

"And you want to do this in eighteen months?" you say.

"Did I say eighteen months? I meant twelve, don't care how you do it. Kidnap them. Get creative. You find the talent -- I'll find the money."

The plan is a loser. It will make enemies of every other video house in the south. Not wanting to be associated with it nor to be seen openly opposing it, you write a carefully measured evaluation to distance yourself from the project. Masterson responds by putting you and Pleasants in charge of getting the new operations up and running. You go along. The plan is unreasonable but not quite unreasonable enough to make a fuss about.

Key objectives are identified, metrics developed, timetables laid out. Months of road travel loom ahead: chain hotels, rental cars and room service club sandwiches; four days in one city, six in another. You'll have to build or buy infrastructure, negotiate searches for videographers who can light a complex studio set in under an hour, grips who can execute those precise camera moves, directors known for working quickly and efficiently with local acting talent.

At the last minute, Masterson tells you you'll be working with Ashley Cole. She's good people, he says. You know Ashley doesn't have business development chops yet, which means she'll be eager to make a good impression. Holed up in a Dallas hotel room with Ashley, interviewing people, you're stunned at the things job candidates, especially women, will do to make you remember them. One videographer, barely in her twenties, wonders if she might be your second cousin. Piles of resumes litter the couch along with a few DVDs from people who haven't yet posted their sample reel to Vimeo. Also a tray of soda cans, drying hors d'oeuvres from room service and rolled-up blueprints you unfurl to show videographers the planned studio space. Ashley sits on the bed entering figures into an Excel sheet, so busy and involved she won't even take calls from her dog sitter.

At six p.m. Thursday, the last job candidate is out the door. Ashley stares at you and you stare back at her athletically swooping eyebrows. Your shirt is clammy with sweat.

"What do you feel like doing?" you ask.

"Is this a test? I'm tired. I'm not studying for anything."

"It's not that kind of test," you say.

"Did you prang Lindsay Park?" Ashley says.

"Where do you know Lindsay from?

"You did, didn't you?" she giggles. "On that trip to Prague?"

"We had a threesome," you say. "Lindsay suggested it."

"Bullshit. Bull-- Shit!"

"How ambitious are you?" you say. "As ambitious as Lindsay?"

"Let me -- Close the door first," Ashley says, without platonic intent.

You reflect that sex is present whenever older men and younger women work closely together, regardless of whether clothes stay on or come off. When they brainstorm ideas or criticize or encourage each other they see each other at their most stressful moments, which is to say their most vulnerable. Something is exchanged at these times, even if it isn't fluids. At the same time, the whole relationship would be immeasurably easier if your dick didn't want what it wants.

Your wife has a wonderful idea: she'll pick up a business degree, which will give her the financial smarts to open her own art and antiques gallery in Buckhead. Shuffling through stacks of glossy catalogues, she discusses the merits of various schools. One offers a combined MBA/art history degree for aspiring arts administrators. These are online degrees, she explains; for most, she'll only need to travel to campus one week in spring and one in fall to meet with her advisor.

"By the way," your wife says. "We still haven't figured out what to get Rainie for her birthday."

"What did you have in mind?

"Why don't we take her to Xocolatl? Let her pick out some chocolate."

"Let's take her to Trader Joe's. We can grocery shop at the same time."

"That's not a birthday. It's a shopping trip. She has to have fun or it's not a birthday. Sometimes I wonder how your mind works."

On the next trip to Miami, Ashley mentions that she grew up in Fort Lauderdale. You want to visit her old neighborhood before dinner but she wants to see Coconut Grove. "It's completely transformed since I was a kid," she says. Evening in the Grove is one long, raucous pub crawl past restaurants and bars, sidewalks seething with bodies in states of partial undress. Packs of college boys pause to leer at Ashley who looks moist in the Florida heat.

"Hey, sweetheart, come home with me," shouts a healthy-looking lout with greasy curls.

"Fuck off," Ashley says.

"Ashley!" the lout says.

"Wes?" She spins around. "Oh my God! I went to school with this guy!" There's nothing to do but stumble into the next bar on the block with Wes and his whole boisterous crew. The jammed place is Caribbean-themed and stinks of coconut. It's impossible to talk above the noise. You observe Ashley and her college friend grinning and flirting above the din while the other louts order rounds of beer. One of them (Matt, if you heard correctly) rises and heads into the mob, looking for the men's room, perhaps, but the wall of bodies won't part. He pushes against them, others push back. Soon there's a fight. Matt crashes a fist into another guy's chest, knocking him onto a table which flattens under his weight. Amid shrieks of laughter, two thick-bodied bouncers appear and drag Matt and his opponent to the door.

"I guess that's it for the night," Ashley says.

"Don't leave," one bouncer says. "It's only the second fight of the evening." But Wes's friends only laugh as everyone tumbles out into the steamy night. Matt's head cut is not so bad that he can't help his friends hold Wes up while he retches into the gutter.

"Stay!" Matt says, as you and Ashley stagger into a cab where she slumps against your shoulder. Tipsy with anticipation and rum, you escort her back to her room at the hotel.

"I'm sorry about all that stuff at the bar," she says at the door, squeezing your arm. "I guess things got out of hand."

"That's alright." Without permission you push past her into the room -- why not? You're in love, aren't you? When two people love each other, all is permitted.

"Stop that!" Ashley says, but laughs when you push her backwards onto the bed, wriggling delightfully as you roll atop her. Everything that follows seems as natural as love itself.

At 2 a.m. you both fall asleep on top of the bedcover. You wake at 6:45, with daylight just beginning to creep around the curtains and your plane to Atlanta leaving in an hour and forty five minutes.

On the plane home Ashley talks about her need to make choices. "Here's the thing, Eddie. Working with you is great. It has been; it is. I mean all those crazy hours taught me so much." She's running her mouth, babbling about her options, her skillset, expanding her horizons. And do you get where she's coming from? "Nothing personal, Eddie, believe me. It's just that I feel I should try working with someone else for a while." You try to follow her reasoning, timing out the third time she talks about her need to be stretched.

By the time you deboard, Ashley is out of words. The smart thing to do is simply tell her whatever you think is best, you have my blessing. Setting up a regional video infrastructure is already costing fifty percent more than projected. In Miami, the president of one of your biggest competitors came up to you at dinner to make threats against Masterson. "Tell your boss we will not be steamrolled out of this town by his big checkbook," he said, just as the waiter arrived with Ashley's dessert.

Your wife gets a job as a gallery assistant at Brian Wiggins Fine Art. Selling contemporary impressionist paintings in South Tuxedo Park is a much better plan than the MBA, she says, which would have taken too much time, and how could she ever finance her own gallery anyway? You meet Wiggins at an opening reception, a silky, precisely dressed man whose easy small talk reminds you of your college dean. Perhaps this is what your wife joined the gallery to learn.

Another Congressional staffer comes forward with a tale about Bartlett. You watch the Senator on TV saying he will not resign. Then two more women surface with stories. Your wife announces she's joining a busload of women traveling to Washington for an anti-Bartlett rally. She and two girlfriends, Lexi and Missy, use the dining room table to screen-print posters and T-shirts: BEAU MUST GO. Missy suggests changing it to BEAU MUST GEAU. Everyone laughs.
When Rainie abandons her homework to investigate the racket, your wife encourages her to coat her hand with screen ink and leave a handprint on one of the posters. A kind of mark. "We need swift, sure, and permanent action against these predators," Rainie scolds. Who taught an 8-year-old to say such things? Your wife hugs her, carefully arching her own ink smeared hands away from Rainie's sweatshirt.

You drive your wife to the bus station, where a charter bus is decked out with banners reading TRUTH AND JUSTICE EXPRESS. As she boards the bus, she says, "Maybe we should exile all the men." Everybody laughs. She turns and says, "I didn't mean you, honey." Everybody laughs again.

You think back to what you know about Bartlett, whom you've seen often enough: earnest, clean-cut, speaking out against some injustice, surrounded by fresh-faced crowds. You guess Bartlett probably liked to maintain a fun atmosphere in his office and things got out of hand. Is that really actionable?

Back in Atlanta, your wife storms around the kitchen slamming cabinet doors, complaining about all the butts she has to kiss in her new job.

You're baffled; isn't that what galleries do? "Why not quit," you say.

"And do what?" she says. "Mope around the house?"

"A year ago," you say, "you didn't want a job because of Rainie. Then you wanted to get your MBA. Then you got the gallery job instead. Now --"

"Eddie, you're hurting me when you say these things." She clamps a hand over her eyes. "Are you aware of that?"

"I'm being honest," you say. "Didn't we agree we would tell the truth to each other?"

"What about my needs? I'm tired of Atlanta. I miss Massachusetts."

"What do you expect us to do?" you say. "Move?"

"I can't stand this place another second," she says. "I'm going out."

"Where are you going?"

"Out. I don't know."

"Where?"

"Out. China. Just out, that's all."

"What's in China?"

"I'll tell you when I return."

"Why are you guys shouting?" Rainie says. You didn't even notice she'd come into the room.

"No reason," your wife says.

When the satellite studios in Dallas, Nashville, Miami and Durham are up and running, Pleasants is promoted to executive vice president and immediately taps Ashley as his executive assistant. "I hope you understand this is a big break for me," she tells you. "I have to take this." It's her chance to do whatever Pleasants thinks needs doing in return for which she'll cultivate clients and perhaps bring in money.

Relationships. It's a business of relationships, including Pleasants' personal relationship with Ashley. Thinking about this makes you crazy with lust, but why? Ashley is nothing but an assistant. She can be replaced as easily as screwing in a new lightbulb. You know the reality of her new job will mostly mean the commonest kind of grinding chores: setting up meetings, making travel arrangements. Nothing glamorous or sexy about that.

Your wife's gallery job ends when Wiggins moves to the more moneyed precincts of Austin and starts dealing privately. "Gallery work is too unstable," she says. Instead she'll work as a docent at the High Museum, where they provide training as well as free lunch every day you work.

"You said you wanted to learn from Wiggins," you say. "Have you learned enough to find another gallery job?"

"I would have had to move to Austin to continue the relationship. That's what he wanted, anyway." She sighs as if the thought were too much. "It isn't easy to get out of his clutches."

Eight months later it's clear the market for commercials, events, and training videos can't sustain such a radical addition to the south's production infrastructure. Video Dimensions has overexpanded. Growth curves are leveling off prematurely; the venture can't even recover its cost of capital. Your wife calls it Video Dementia. Unfazed, Masterson wants to reprioritize to have a presence in high-end streaming video. "See if you can cost it out," he says.

"We find the talent, you'll find the money, is that it?" you say.

"That's right."

Beyond giving you a new assistant whose name he misremembers, Masterson can't bring himself to care about the long hours you put in, building up something that now has to be unwound. "I'm sending you Haley," he says. "See what you can do with her." Hayden greets you by gliding unsteadily through the door on a skateboard. Five feet tall, weighing about a buck thirty, she looks as if she climbed trees with boys when she was younger.

"Colby says you can tell when a script is over budget just by rubbing it between your fingers," Hayden says, stepping smartly off the skateboard and tipping it up against your desk with one foot. Though you're immediately attracted to her eagerness, her gangly figure, the easy natural way she has the boyish thing down pat, you wonder if she knows what she's been tasked to do. Her utter indifference to normal office appearances and proprieties might be useful if this were a normal assignment, but it isn't. Masterson's remark annoys you. You're good with budgets but not that good.

"Let me guess about you," you say. "You want to direct commercials, am I right?"

"Is it that obvious?"

"Well your first assignment," you say. "Is to fly with me to Miami Monday."

"What for?"

"We're going to fire a lot of people."

"How many is a lot?"

"Everybody," you say as Hayden strokes the skateboard with her sneakered toe. "Are you up for that?"

"Of course I'm up. What the hell kind of wimp do you think I am?"

In Miami, Hayden escorts the layoff victims one by one into an office where you give each a month's severance check and a handshake before she walks them past the temporary security guard and off the property.

Strolling through the hall near the control room at the end of the first day in Miami, you spy an overturned chair in the green room. You poke your head inside to find the place completely trashed, end tables and lamps kicked over, gobs of pancake base smeared on the makeup mirror. The sofa is slashed and eviscerated beyond repair.

"Hayden!" you call. "Did someone remember to lock the studio?"

"I'll look," she shouts, then, "Shit -- someone overturned the crane."

You run to the studio where Hayden is struggling to right the Chapman crane's heavy telescoping arm. It looks twisted beyond repair.

"Go to the reception desk." You work to keep your voice even. "Call the police."

"Can't you -- Help me with this first?"

"Leave it. The cops need to see it just where it lies so they can shoot photos for evidence."

At the end of the second day, when the door closes on the last employee, you stand in the lobby where Hayden is seated behind the reception desk. A big video screen runs a silent tape loop of the house's commercials and music videos. Dismantling everything you worked so hard to build no longer seems like a trauma, just an assignment. Tomorrow, movers arrive to cart off the undamaged video gear then workers will begin converting the space into a dialysis clinic.

"How many people did we force into poverty today?" Hayden says.

"They'll recover." You walk behind her and put your hands on her shoulders.

"That's nice," she says, ignoring the ringing phone.

"We're not the cause of their troubles," you say. "The capital ran out, that's all."

"But we're the instrument of their troubles. We're disrupting so many lives."

"You're a very kind soul to think that." To say anything else would encourage Hayden's compassion for the hired help. She tilts her head up at you, eyes closed, and smiles. "I don't feel like being responsible anymore," she says. "I've been responsible all day."

You wonder whether to talk about sex or wait. If Ashley were here you could just get on with it. "I know a Caribbean-themed place with good grilled fish," you say.

"Oh, cut the crap," Hayden says. "Let's just do it right here on the floor behind the reception desk. Can you unhook my bra?"

And you could do it. You could prang Hayden right where she is, to use Ashley's phrase. But an impulse tells you to pick up the phone, which has been ringing nearly two minutes.

"It's me," your wife says. "Rainie started shrieking in her bedroom. Can you just -- Say something? She's close to hysterical."

Muffled sounds, then your daughter comes on. "Daddy, he was chasing me."

"Who's chasing you, honey?" You thought she'd gotten over these nightmares. Hayden glares at you without patience.

"Something was chasing me. The man. I tried to run away but I couldn't."

"Honey, that wasn't real."

"Yes it was."

"You were having a nightmare. I promise you it wasn't real."

"All my nails are painted red, daddy. I got some on my foot too."

"That must be a very red foot you've got there."

"Here's mommy again, daddy." More noises, then your wife is on.

"What was that about her nails?" you say.

"She tried to paint her toenails. She made a mess of it. There's nail polish on the Tabriz. I'll let you get back to your meeting. Forgive me; I know I'm interrupting important business."

It's only when you hang up, ready for a refreshing spasm of lust before dinner that you notice Hayden looking at you blankly.

"I've been thinking," she says.

"If it's about those people we laid off, don't bother. We're not --"

"-- the cause of their troubles? Is that what you were about to say?"

"Well we aren't."

"My father was a trucker when I was a kid in Denver. He was out of work a lot."

"It wasn't his fault."

"I know. But blame accumulates around a person after a while. It settles, like dust, you know what I mean? After a couple of those layoffs he started going off and getting drunk to forget his bad luck. I felt like I was laying off my father today. I tried not to, but I couldn't."

"I think I understand."

"No you don't. You don't have any goddamn idea."

"Still up for something?" you say, unable to think of anything else.

"Go to hell," she says.

When Pleasants is let go, you're sure his predatory behavior toward women finally caught up with him. Wrong. It was for bribing clients; he resigned in the face of considerable interest from the U. S. Attorney for the Northern District of Georgia. Sex had nothing to do with it. Next day's Journal-Constitution features Masterson's quote about the importance of integrity in business along with the news that Pleasants has already announced the formation of E. Pleasants Associates, with Ashley as his first employee. From Masterson, you learn the Feds dropped the case after trying and failing to get Ashley to testify against him. Knowing how blunt Pleasants could be in private, you're curious what his conversations with clients sounded like and how the boodle changed hands. There couldn't have been checks; too easy to trace.

Does the time ever come for a final reckoning between those who do things to people and those have things done to them or is that only possible at the end of time, when all moral accounts are settled? The Nuremberg trials come to mind. They nailed the big ones but let a lot of small fry scheme their way back into power. Maybe Nuremberg is too melodramatic; the people in your company are jerks, not Nazis. You can't hang everyone; somebody has to stay around to run things.

When you finish shutting down the Miami operation Hayden flies off to St. Thomas with friends while you return home alone. Your plane lands at Hartsfield in heavy rain. It's dark as you approach the house. Your headlights glisten on wet, fallen leaves. Everything is just as it was right down to the pile of catalogs on the table near the hall closet. The stained Tabriz glows against the hardwood floor.

"Eddie?" Your wife's voice over the rustle of sheets. "Your dinner's waiting in the microwave."

"What is it?"

"Short ribs in wine sauce. I already set the time. Just push START."

"Where's Rainie?"

"I don't think it should be too dried out yet. Maybe just a little."

"Where's --"

"She went to bed. That was such a wonderful thing you did, making time to talk to her like that." You hear your wife walking to the bathroom while you peel off your damp suit coat and un-knot your tie with relief. She's saying something over the running water.

"What?"

She shouts something back.

"What?"

The water stops. A moment later you sense her presence behind you. "I lost the docent job yesterday," she says, wrapping her arms around your chest.

"What happened?"

"Wiggins made some phone calls. It was payback."

"Payback? For what?"

"The man still has pull around this town, even from Austin."

"Pull?"

"That's what I said. Pull."

"What kind?"

"Are you going to make me spell it out to you? Alright. How can I say this? We -- But I was learning so much from him. About art and money and how to get rich people excited so they'd pay more and still think they were getting a bargain. So what if we did it a few times? Once we -- Did it on the big carpeted framing table while the clients were out front gushing over the paintings." Her choking laugh. "Can you believe that?"

You can't laugh back. At that moment you feel like putting your coat back on, rushing out of the house and down the rainy streets till you find a quiet place where you can phone Lindsay Park. The anger welling up in you goes beyond just powerful men demanding favors and women who comply; it's fury at the whole filthy system of exchange and exploitation, of people who expect value for value and happily give and get. You almost want to confess your own peccadillos on the merest chance that, having confessed herself, your wife might be willing to forgive. But that impulse passes.

"Well?" you say. "What do we do now?"

"I think it's impossible for women to make it in the art world," your wife says. "We're too submissive, that's our problem."

"What were those jobs, anyway?" you say. "A chance to hang out with rich people." She leaves the room, proving you've said the wrong thing. You find her in the master bedroom staring at the lighted Dali print over the bed. It's some kind of bird/man thing in skimpy pen lines. "I meant really rich people," you add. You know she despises you for saying that; why shouldn't you despise her back? For the MBA that didn't happen, the gallery and docent jobs that fell through.

"I wasn't cut out to be a docent," she says. "But I've got a better idea."

You kiss her on the mouth, pushing against her waist. "Really?" you say. "What's that?"
---
Contributors
---
DEVON BALWIT, when not teaching, chases chickens in Portland, OR. Her most recent chapbook is Rubbing Shoulders with the Greats (Seven Kitchens Press, 2020). For more regarding her work, visit her website.

DONNY SMITH was born in Nebraska but teaches at a high school in Istanbul. Books he has translated include Pigeonwoman by Cemal Süreya (with A. Karakaya), I Too Went to the Hunt of a Deer by Lâle Müldür, and If Cutting Off the Head of the Gorgon by Wenceslao Maldonado.

FABIÁN O. IRIARTE (born 1963, Laprida, Argentina) has published several collections of poetry, and his work has been included in the anthologies Poesía erótica argentina and Poesía gay de Buenos Aires. He teaches at the Universidad Nacional de Mar del Plata.

LAUREN KLOSINSKI is a sometimes writer and uninspired artist who just bought a 140 year old farm house in New Jersey and is trying to figure out "how soon is too soon" to get chickens. She enjoys reading about failed arctic expeditions, knitting (badly), drinking too much coffee, and has a preference for cheap champagne.

MARISSA FARONI is a recent graduate from the University of Connecticut now residing in her parent's basement. This will be her first publication and she is very proud to now call herself a poet. She likes to use poetry as a space to talk about and normalize mental illness as she herself is bipolar. You can find Marissa on Instagram @marissa4oni and Twitter @marissa4oni.

MEHRUL BARI S. CHOWDHURY is a writer, poet, and artist from Dhaka, Bangladesh. His work has appeared or is forthcoming in Six Seasons Review, Kitaab, and Marías at Sampaguitas, among others.

STEPHANIE DEGNORE is a current college student planning to study creative writing as well as political science. She wants to live a million different lives but can only experience one, so she writes. She can often be found munching on something delicious while devouring a good book.

TARUNI TANGIRALA is an undergraduate student who resides in the Houston area. In her free time, she enjoys watching movies such as "Inception" and "The Imitation Game."

THOMAS PIEKARSKI Thomas Piekarski is former editor of the California State Poetry Quarterly. His poetry has appeared in Pennsylvania Literary Journal, Poetry Quarterly, Literature Today, Poetry Salzburg, South African Literary Journal, and numerous others. His books of poetry are Ballad of Billy the Kid, Monterey Bay Adventures, and Mercurial World.

TOM BACKER, born in 1939, grew up in a small town in southern Indiana and taught for 44 years, mainly teaching history in a college-prep high school. He usually writes short stories based on his experiences: a carjacking in Los Angeles, teenagers on the loose, threats to a young lady accused of witchcraft, or a conversation with a church custodian.

TONY VAN WITSEN is a six-year resident of Michigan and a graduate of the MFA program in fiction at Vermont College. He has been writing fiction for approximately fourteen years, specializing in short stories. His published stories and essays have appeared in a range of journals, including The Writing Disorder, Ray's Road Review, Crosstimbers, Identity Theory, and Valparaiso Fiction Review.
---
Support City of Elderly Love
---
A lot of community groups are asking for money right now; there are too many critical causes and it's hard to know where help is most needed and effective.

SORTES supports many local, charitable, and community-based groups --
including the animal welfare group City of Elderly Love, which

aims to help as many senior pets as possible spend the best years of their lives in loving homes rather than their story end in a crowded shelter.

City of Elderly Love is 100% donor funded and completely volunteer staffed! That means that $0.94 of every dollar donated to City of Elderly Love goes directly to veterinary expenses and supplies used to care for our senior pets.

The people who have worked on this publication support this cause and we urge you to as well.
Thank you!
---
Submission & Contact
---
WORLDWIDE SORTES
Pursue us on Facebook and Instagram:
---
SUBMISSIONS & CONTACT
To submit or send comments, questions, or suggestions, please email the editors at
---
SORTESMAIL
Sign up to hear about news and events:
---
Introducing SORTES
SORTES is a spinning collection of stories, poems, songs, and illustrations to help while away the wintery June nights. It's an oddball grabbag wunderkammer mixtape offering distraction and refreshment.

Each issue is its own creature. We have neither theme nor scene. We like whatever makes us shiver, plotz, turn on, and/or freak out. We've published what might be called magic realism, dirty surrealism, fantastical biography, experimental poetry, tender balladeering, elusive allusive elliptical poetry, and sweet ol grainy photography.

We will periodically host contests, readings, calls for entries, and other spry gimmicks to keep things interesting. Previous issues are available via the site's Archive link.
#
SORTES considers unsolicited submissions of poetry, prose, illustration, music, videos, and anything else you think may fit our format. Feel free to poke us; we'd love to find a way to publish dance, sculpture, puzzles, and other un-literary modalities.

SORTES is published quarterly. Each issue includes approximately ten works of lit, visual, or performance art. We like a small number of works per issue: artists and readers should have a chance to get to know each other.

SORTES, you'll notice, is primarily a black-and-white publication, and we like to play with that (by featuring monochrome videos and photography, for example), but we'll happily consider your polychrome submission.

Submissions are ongoing throughout the year. We consider artists with both extensive and limited publishing experience. We accept simultaneous submissions but please inform us if your work has been accepted elsewhere.

There's no need for an extensive cover letter or publication history but please tell us who you are, what kind of writing or art you do, and a bit about what you're sending us. There are no formatting requirements for text submissions. There is no fee to submit. Please send submissions as email attachments whenever possible; multimedia submissions may be sent as links.

SORTES is edited by Jeremy Eric Tenenbaum and Kevin Travers. We live in Philadelphia but we invite writers and artists everywhere to read, contribute, and adore us.
---
Events
---
SORTES regularly offers readings and performances.
For upcoming events, please check here and our Facebook page.
---
SORTES #5 LIVE
March 26, 2021 at 7pm via Zoom
Join us to rock
SORTES #5: "The Audacity of the Seagull"
with stories and poems performed by the issue's contributors
as well as special guests.
Free and open to all.
---
---
---
Radio SORTES
---
See Events for upcoming Radio SORTES performances.
---
The 39 Steps, February 19, 2021
The Radio SORTES Players performed this classic adventure story, written by John Buchan and adapted by Jeremy Eric Tenenbaum from Hitchcock's 1935 film and the 1937 Lux Radio production. It starred Brenna Dinon • Heather Bowlan • Rosanna Byrnes • Betsy Herbert • Iris Johnston • Warren Longmire • Brian Maloney • Britny Brooks • Nicholas Perilli • Kelly Ralabate • Dwight Evan Young • Emily Zido • Victoria Mier • Jeremy Eric Tenenbaum • and Kevin Travers.
---
Halloween Eve Special, October 30, 2020
The Radio SORTES players presented a live Halloween Eve special: two programs of classic old time radio horrors. The shows -- including dialogues, music, and sound effects -- were performed for a live Zoom audience.

The Suspense episode "The House in Cypress Canyon" was originally broadcast December 5, 1946 and the Inner Sanctum Mysteries episode "Voice on the Wire" was originally broadcast November 29, 1944. Both programs were performed by Kevin Travers • Sean Finn • Britny Perilli • Don Deeley • Brian Maloney • Betsy Herbert • Kyle Brown Watson • Nicholas Perilli • Emma Pike • Kyle Brown Watson • Susan Clarke • Kyle Brown Watson • and Jeremy Eric Tenenbaum. Between episodes, we presented an original commercial in period style written and performed by Kevin Travers.
Introduction
Suspense, "The House in Cypress Canyon"
Commercial
Inner Sanctum Mysteries, "Voice on the Wire"